ECO-Scroll 4-15kW
4-15 kw OIL-FREE AIR COMPRESSOR Environmentally friendly and highly reliable, the Eco Scroll comes with a user-friendly control interface with an easy-to-read display.
ECO-Turbo Series 185-250kW
185-250kW AIR COOLED/WATER COOLED CENTRIFUGAL AIR COMPRESSOR With the ECO-Turbo, expert experience in centrifugal design and manufacturing for the highest efficiencies meets the simplified design for ease of ownership.
OL Series 5-15HP
OL Series is the ideal reciprocating oil-less air compressor for applications where critical air quality is required such as food and beverage, medical, chemical processing, pharmaceutical, electronics, and more.
OIL FREE SCREW AIR COMPRESSORS
Oil free screw air compressors from ELGi are the backbone of a range of industrial applications. Customers rely on the oil free range for sensitive applications with zero tolerance towards oil and lower environmental impact.
AB SERIES SCREW AIR COMPRESSOR 15 – 150 hp
ELGi is one of the very few screw air compressor companies to design and manufacture airends for Oil free screw air compressor technology. The new AB series oil free screw air compressors provides disruptive benefits in terms of efficiency, reliability and air quality resulting in lower life cycle cost and high uptime. The high quality air out put with Class-"0" certification makes this compressor ideal for sensitive applications in pharmaceuticals, food and beverage industries where presence of oil vapor and moisture is intolerable.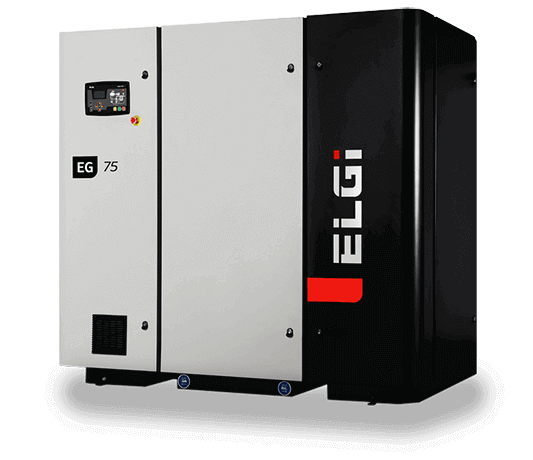 ELECTRIC OIL FREE AIR COMPRESSORS
TWO STAGE OIL FREE AIR COMPRESSOR 60 – 500 HP
ELGi is amongst the few screw air compressor manufacturers with an in-house designed and manufactured oil free airend. ELGi's oil free range provides class zero oil free air with leading energy efficiency, reliability, and low operating costs supported by Best-in-class warranty.